Punch and die options allows for punching an application you may have thought not possible.
American Punch Company offers several punch and die options to adapt stock tooling designs to meet your specific needs and requirements. For instance, we can add extra length to the punch body or to its working length. When your application calls for punching leg up, a double –or extra width– body on the punch can provide both extra length and strength. Adding a shear face to a punch can reduce the tonnage required in certain applications. And don't forget about adding keyways to your punches and locating spots to your dies for increased accuracy and repetitiveness.
Double Body for Punching Leg Up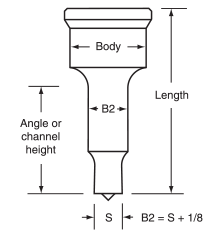 Modifications to standard dies available can also solve certain punching challenges.
We can also make modifications to the dies we manufacture. These include adding a locating spot with options for the configuration of the set screw such as a set screw spot, set screw flat or drill point (please see diagram). We can produce dies with offset hole positions, and bevel top dies, with a corrugated or flat head.